We at Copenhagen Atomics believe that the solution to nuclear waste already exists. The solution lies in recycling nuclear waste to create an abundance of affordable and green energy, significantly reducing the amount of waste and the time we have to store it.
Join us at Copenhagen Atomics as we finish building a functioning thorium molten salt reactor that burns nuclear waste and drives real change.
In this role, you will be responsible for creating and developing the control software utilized in various systems. This includes reactors, molten salt test loops, nuclear fuel production, etc. Additionally, you will have the chance to work with a diverse team to develop new features and solve challenges. Through collaboration with a multidisciplinary team, you will have the opportunity to make a significant impact on our systems and company goals.
As a company, we value curiosity, flexibility, being self-driven, yet able to collaborate, and the possibility to grow as a person and professional.
You'll play an important role in:
Developing world class control software for critical infrastructure.
Inventing new standards, algorithms, user interfaces and robust software.
You are particularly good at refactoring and quickly building proof of concept code.
To succeed in the role, you:
Have a minimum of 5 years experience C#.
Have a strong understanding of development principles and are familiar with unit testing and practices.
Have a proven track record of delivering high quality solutions in an iterative manner, where value is provided in intermediate increments.
Experience with Linux, Github, scrum and state machines.
Ideally, have experience in control theory.
Share our values in simplicity and efficiency in our code.
Have a passion for delivering reliable and maintainable software.
You likely have an engineering background and your coding style falls on the right side of this chart: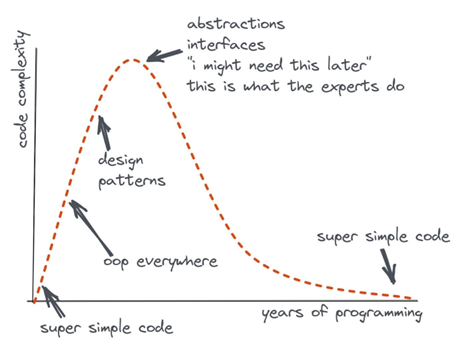 Innovation is at the forefront of our culture and drives us to achieve our goals. As a member of our team, you will have the opportunity to work on groundbreaking technologies with the potential to make a significant impact on the world.
Based in Copenhagen, we are an international team of over 60 engineers, technicians, designers, and more who are in the process of developing a new, low-cost, abundant, sustainable, and safe nuclear technology to be manufactured on assembly lines in the future.